Happy birthday
woensdag 01 november 2023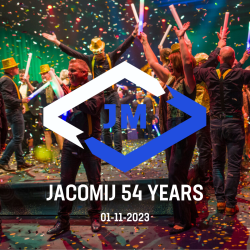 Today we celebrate our 54th anniversary!

This achievement wouldn't have been possible without the dedication of our amazing team and the support of our suppliers, customers and partners.

Thank you all!

We are looking forward to continue our sustainable cooperation.

Resources are limited, our ideas are not.

We also congratulate two committed JCMY team members with their remarkable work anniversaries today:

Ellen van den Heuvel 35 years
Mike Robinson 12,5 years

Cheers to many more years!