Sister company NHA wins German Sustainability Award
We congratulate our sister company Nickelhütte Aue which has been honoured with the German Sustainability Award (GSA) 2023 in the Resources transformation field. Put forward for the title by a team of experts from the foundation behind the award, the internationally active company and member of the JACOB METAL GROUP came out on top of the field of around 150 participating companies.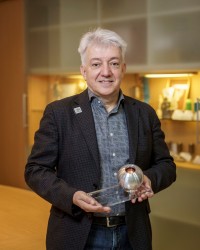 "We are delighted to receive this recognition. The award honours the commitment of our employees, the region and the entire recycling industry, in particular our fellow members of the JACOB METAL GROUP," says Henry Sobieraj, Managing Director of Nickelhütte Aue GmbH.



The globally active specialist in the processing of non-ferrous metal waste and residues has made a crucial contribution to sustainability in the metal industry for years. Recovering metals conserves resources and prevents millions of tonnes of carbon dioxide that would have been released through the extraction of ores. Rooted in tradition, the company operates from the Erzgebirge region of Germany, also known as the Ore Mountains. It practises the very idea that Hans Carl von Carlowitz formulated in 1713 in the nearby city of Freiberg when he defined the concept of sustainability.