Jacomij, since 1969, now consists of two companies:
Jacomij Metalen & Jacomij Electronics Recycling (collectively 70.000m2). Although Jacomij has all the characteristics of an international recycling specialist, it's a family business where attention to customers and employees remain priority.
Jacomij has all the knowledge and first-class facilities (storage, analyses and shredding) required for efficient and high-grade recycling of nonferrous materials, fully geared to the specific requirements of the customer. With the aid of advanced equipment, well-trained staff and expert partners, all materials are sorted, checked (manually) and processed quickly and competently.
Jacomij takes the care for people and environment very seriously and therefore has all the necessary certificates and licenses that guarantees a responsible approach - from transport to processing.

This professional approach and excellent facilities have contributed to the worldwide distinguished reputation of Jacomij Metalen and Jacomij Electronics Recycling.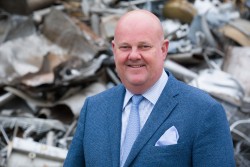 Jacomij offers opportunities and invests in talented and motivated people who want a career in the recycling sector and feel at home in our family business. Through proper supervision and education, we offer our employees every opportunity to make the most of themselves, "let people do what they are good at". And this point of view pays off, as evidenced by the fact that many of our employees have been feeling right at home at Jacomij for many years.
For 50 years global player in recycling
Jacomij is a leading, certified specialist in the recycling of non-ferrous (precious) metals and electronics and has been operating successfully for years on the international market.
Combining knowledge and experience
Jacomij Metalen focuses on trading and processing of non-ferrous metals. Jacomij Electronics Recycling has its focus on processing and recycling electronic scrap and destruction of waste for the purpose of the recovery of precious metals.
Precious metals & electronics recycling
The board is formed by Erik van den Heuvel and Patrick de Ligt. Thanks to their expertise and commitment together with the traders, they built a close relationship with companies, governments and industries in the Netherlands and abroad.
J
acomij has been functioning like a well-oiled machine for over 51 years. It's policy focuses on innovation. We predominantly invest in environmentally friendly business operations and optimising quality and efficiency in the recycling of nonferrous (precious) metals and electronics. We keep a close eye on trends and product development in order to be able to anticipate (future) demand and supply in the industry and the business community. In addition, Jacomij Group closely follows social developments and the laws and legislation in order to be able to continue to deliver high-grade quality in an ever-changing market.